News / Update
Sanook Online Limited announces the appointment of Krittee Manoleehagul as Managing Director of Content and Services business.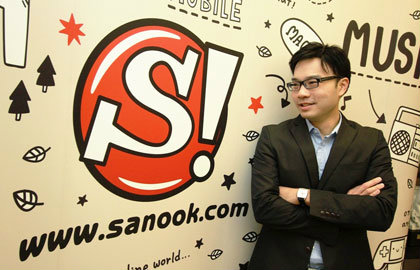 Sanook Online Limited announces the appointment of Krittee Manoleehagul as Managing Director of Content and Services business
with the aim of making Sanook! to be the most sought-after infotainment platform by internet users in Thailand.

Sanook Online Limited has appointed a new Managing Director responsible for the company's content and services business to oversee Thailand's
No. 1 website infotainment portal (www.sanook.com), mobile content (Sanook! Mobile), games and online advertising services (Topspace).





With his experience in both E-Commerce, mobile and technology, Mr. Manoleehagul will lead Sanook! to focus on developing content and services
that are catered to the local market needs while making it accessible from all devices such as mobile phones, tablets and PC.
Together with its business partners, Sanook! aims to jointly grow and lead the online market in Thailand.

Over the past year, entertainment, online games, blogs, webboards and E-Commerce websites were the most popular to Thais (according to TrueHits).
This has helped Sanook.com to yet claim another number one website spot at Truehits.net Web Awards 2011 with the most visitors for the ninth consecutive year.
Sanook.com has reached over one million daily unique IP visits (UIPs) and averages over 18 million UIPs on a monthly basis.
Sanook.com's popular services are Sanook! News (entertainment news), Sanook! Webboard and Sanook! Video.
Sanook! will continue to undertake the challenge to develop new services that would meet its users' needs and innovate in order to improve services
to match those of the world's leading websites.

"With Sanook Online Limited vision, we are committed to being the leading provider of internet services for Thai consumers and businesses through our portal,
mobile and tablet platforms bringing entertainment and information services to the Thai people anywhere and at any time." he added.
"As a market leader, we must continue to focus on innovation and new business opportunities.
Today, there are two business groups within Sanook Online Limited which are:
1) Sanook! Content and Services and
2) E-Commerce (www.shopping.co.th and www.dealfish.co.th) which is led by Tiwa York, the new Managing Director of Sanook Online explained.

"Sanook Online is a leading online company that offers the most infotainment content and E-Commerce.
We are confident that our users and partners are satisfied with our products and services. Together,
Sanook! Content and Services and E-Commerce will lead Sanook! growth in the online eco-system in Thailand."
Sanook Online Managing Director for E-Commerce Tiwa York added.