News / Update
Topspace reveals online and digital advertising is increasing, reflecting the boom in social media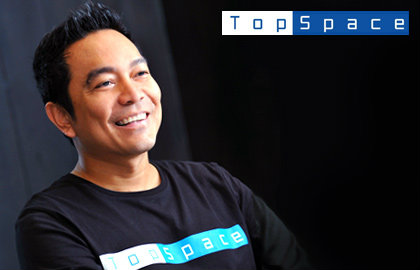 Bangkok, April 2, 2012 -- Topspace (Thailand) Co., Ltd., a leading integrated online communication service company in Thailand, points to a boom in online advertising that stems from the rapid growth in internet accessibility, online contents, and knowledge of internet user which resulted as the rapid uptake of smartphones and incased popularity of social media networks in various forms. Topspace is now fully ready to meet these demands with teams of skilled, estimated soon the company will become leader in Thailand's market.

Topspace's Managing Director, Kasamart Neerapatama, disclosed that according to estimation from Topspace the number of Internet users in 2011 reached 25 million people (Estimation number from Topspace) as a result of Thai broadband service providers expanding their coverage while increased competitions have brought prices down. This, combined with an increasing in the number of smartphone users which is estimated to reach 82% of the total population this year (Nelsen Digital Consumer Report Q4-2011), thanks to the introduction of 3G mobile services, as resulted in a corresponding growth in the online advertising and digital media in Thailand, Mr. Kasamart added.

From lasted development of technologies and internet services, the national internet's overall speed is higher, offered online content has more variations, especially video content which growing popularity from both sides of consumer and producer very fast.

He said that this has made Internet access more convenient which also boosted the popularity of social networking usage, particularly Facebook which is really booming as reported from Rapid Intelligence the number of Facebook users in Thailand exceeded 14 million people in 2011, an increase of 109% over 2010 when there had been 6.7 million users.

Another key factor is the increasing of consumer internet usage's knowledge and understanding which turned them from content's consumer to producer. There are tons of "user-generated content" sending back and forth via the Internet as resulted, Facebook, today's most popular social networking service, has became very popular; as reported from "Rapid Intelligence" Facebook's user in Thailand now reached 14 million, increased 109% from last year which has only 6.7 millions.

Topspace is one and only official online digital media's sale representative for sanook.com. Currently sanook.com has more than 18 million visitors each month (Google Analytics), the most popular among variety of contents offering is sanook! news, which has up to 6 million visitors or 160 million page views per month, comparing with March 2011, sanook! news had 4 million visitors or 100 million page views that shown 50% and 60% visitor and page view growths respectively. (Truehits.net)

"I believe this year Thailand digital media and online advertising's growth rate will reach higher than the past several years due to the increased users of online services and also I estimate that the market this year will expand by at least 30%. In the United States of America, the growth in digital media and online advertising is 23% (eMarketer.com) and this should be a positive signal for Topspace in the direction of the growth for digital media and online advertising in Thailand," he said.

People are accessing the Internet more frequently and connecting online longer because of social media. While Internet access is no longer restricted on desktop computers (PCs) and notebooks but can also from smartphones as well. The trend of accessing the Internet via mobile devices and rapid expanding of internet content, not only makes these devices play more important role besides mainstream media, but also replacing traditional media as well, Mr. Kasamart noted.

The use of mobility devices such as notebooks, tablets, and smartphones that allow data access anywhere and at any time changes consumer behavior as well as statistics about consumers and thus digital media marketing is one aspect that has a role in determining markets today, he said.

Now, it's not just about purchasing a banner advertisement or making an endorsement of a product or service on a website, it's also online activity at a web portal as well as on the customer's website or even activation on Facebook together with a smartphone application which is now very popular. Plus, there's search engine marketing campaign, which clients have a high regard for since 99% of Internet users search for information using Google, and thus marketers are now looking at the concept of a digital integrated campaign, Mr. Kasamart added.

As for consumer interest in social media, this has clearly increased a lot no matter whether it is Facebook, which is one of the top three websites with the most visitors worldwide, including Thailand, or Twitter, where the numbers of users are steadily increasing, or Instagram. In Thailand, from monitoring the behavior of this group of consumers we found that they interacted continuously with various brands in the online or digital world, whether this is by receiving or forwarding information, either by word of mouth (WOM) or by clicking "Like" or "Share" buttons, the Topspace Managing Director said.

He added "Thus, businesses need to adapt to be able to compete and to maintain their market leadership. Whether it is by communications or creative marketing there is interaction and they need to reach their target markets through the use of effective marketing strategies using social media in the most effective way."

Mr. Kasamart added that, with this growth in the role of online digital media, Topspace is ready to support market expansion and has plans to offer complete and integrated digital media services ranging from Google Search to social media advertising services, covering everything from offering advice to planning media campaigns with its team members who have experience from leading advertising agencies in order to support this expanding market.

Topspace is an expert in integrated online communication service company in Thailand with a large group of international companies and major Thai companies as clients, including consumer product, food and drink, banks and energy companies, medium-sized businesses and SMEs with the focus being on online communications channels.


About Topspace (www.topspace.com)
Topspace (Thailand) Co., Ltd. was established in October 2007 and is a company in the Sanook Online Co., Ltd., group and provides integrated online communication service. Serving as a hub for online advertising, the company offers a variety of services to help marketers reach all their target groups and marketing objectives. The company employs advanced technology in the management of advertising to ensure great results and has helped thousands of companies and brands achieve success in their online marketing campaigns.