News / Update
Sanook.com presents "Dealfish.co.th" the most convenient person-to-person community marketplace connecting buyers and sellers.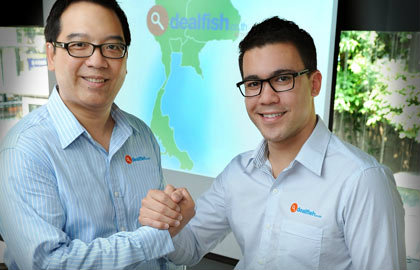 Sanook.com presents "Dealfish.co.th" the most convenient person-to-person community marketplace connecting buyers and sellers by location in Thailand. Convenient, fast and easy to use, Dealfish is now poised to stimulate the person-to-person e-commerce market in the Year of the Dragon.


Sanook.com is introducing Dealfish.co.th, the most convenient locally focused person-to-person (P2P) community marketplace in Thailand. In just a few simple steps, people can post things for sale or search for wanted items in categories covering IT, Consumer Electronics,Lifestyle, Fashion, Automotive, Real Estate, Home Furnishings, and more. Dealfish.co.th is ready to help cater to an estimated 50 percent growth in the e-commerce market in 2012 by facilitating P2P transactions.





Tiwa York, Sanook Online Ltd's Managing Director E-Commerce, said "Dealfish.co.th is an online marketplace for the individual that evolved from Sanook! Classifieds. Anyone can come on the site to post their offerings, the price they charge, and where they are located in only a few clicks."

"After years of running the leading classifieds site in Thailand, we found that our visitors were driven to offerings within close proximity of themselves", he added. "By leading with location focused navigation, we are able to more accurately connect individuals to the things they are looking for while delivering a more targeted audience to people and businesses wanting to sell their goods and services."

Sanook! estimates that in 2012 the value of the e-commerce market will increase by at least 40-50 percent over the level of online trading in 2011 which, according to the National Statistics Office, had a value of 6,770 million baht.

"Dealfish.co.th distinguishes itself by providing a fast and convenient marketplace close to where people live, not just in Bangkok. We believe that people all over the nation are looking for buyers and sellers close to themselves. The site aims to make it as easy as possible to connect these people", added Mr. York.

"We want to bring the incredible value of online marketplaces to everyone in Thailand. For the individual, it is about finding goods and services within close proximity. For entrepreneurs, businesses, and individuals we want to make it easy for them to connect with new customers and facilitating offline contact"

"Basic services are free on the site. In the future, we will charge fees for added value features for sellers."


In the future, the company plans to integrate communication, social, and mobile features to better facilitate connections on the site.